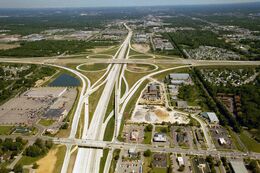 The New Shetland Highway System (NSHS) is a network of strategic highways within New Shetland, including the Harvian Carriageway System (HCS), the New Shetland Motorway Network (NSMN), and other roads serving major airports, ports, rail or truck terminals, railway stations, pipeline terminals and other strategic transport facilities. It is part of the New Shetland Road System.
The New Shetland Motorway Network consists of all major motorways in Northern, Southern and Llamada. The Harvian Carriageway System is similar in set-up to this road system but consists of all Harvian Islands higways. It incorporates many smaller roads as well. The rest of the New Shetland Highway System consists of some of the smaller expressways that serve important infrastructural facilities such as airports and harbors.
Ad blocker interference detected!
Wikia is a free-to-use site that makes money from advertising. We have a modified experience for viewers using ad blockers

Wikia is not accessible if you've made further modifications. Remove the custom ad blocker rule(s) and the page will load as expected.