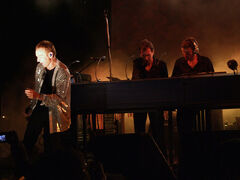 Neon Plenty is a alternative dance collective based in Yarmouth , New Shetland. The group was formed in 1995 by Ethan Campbell and Lachlan Cohen. Currently, the collective consists of 5-6 members. Neon Plenty has released critically acclaimed albums such as Resusci, Negative and My Father's Voice. Neon Plenty is associated with the Yarmouth and Marbella clubbing scene and multiple members DJ'ed various parties in the 90s before joining Neon Plenty. The group is infamous for chaotic live-sets, and violence-related incidents in The Factory, now defunct Marbellean night club.
Neon Plenty has been described as "noisy, yet beautiful" and as making "ethereal synth-driven protest songs". Most Neon Plenty songs feature politically conscious lyrics and complex rhythms. Wide-spread use of samples has also been noted by some as adding "a new, distant layer" to the music.
Discography
Edit
Chloe, My Neon Girl (1995)
Resusci (1996)
Negative (1998)
Where Eagles Have Been (1999)
My Father's Voice (2004)
Riots and Broken Glass (2010)
Brief Resonance (2011)
Ad blocker interference detected!
Wikia is a free-to-use site that makes money from advertising. We have a modified experience for viewers using ad blockers

Wikia is not accessible if you've made further modifications. Remove the custom ad blocker rule(s) and the page will load as expected.