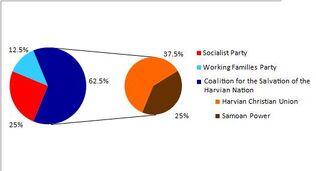 The
Estates
, or less frequently called the
Harvian Estates
, is the highest legislative branch of the
Harvian Islands
government. The Estates is based in the
National Council
in
Port Philip
,
Leeward and Princeton
. A person who seats in Estates, elected in the General Elections, is called a
Estates Member
or EM.
The Estates act as a cabinet for the Harvian Islands but is unique in that it is not composed of a majority coalition of the biggest political party, but of representatives of all major Harvian political parties chosen by the Harvian people.
The Estates have executive power but have to consult a 75 member Congress where a vote is made on proposals. The Congress only meets to vote on proposals and can adjust unconstitutional mistakes in law proposals, but has no other powers and therefore it is regarded as of minor interest for the Harvian politics.
The Estates is a ideologically diverse mix of different political parties whose members are chosen fouryearly, independent of the Congress elections.
List of Estates
Edit
Ad blocker interference detected!
Wikia is a free-to-use site that makes money from advertising. We have a modified experience for viewers using ad blockers

Wikia is not accessible if you've made further modifications. Remove the custom ad blocker rule(s) and the page will load as expected.