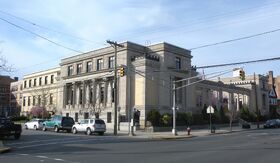 Bergen is a town east of Warren in the state of Blakeney. It is build around Lake Warren and rapidly increased in population when the textile industry in Blakeney expanded in the 1930s and 1940s. Bergen forms the Bergen-Warren Metropolitan Area together with Warren.
Bergen is home to three of the largest textile factories of New Shetland.
Ad blocker interference detected!
Wikia is a free-to-use site that makes money from advertising. We have a modified experience for viewers using ad blockers

Wikia is not accessible if you've made further modifications. Remove the custom ad blocker rule(s) and the page will load as expected.